Mixed Martial Arts Classes
MMA Classes: Taught by Black Belt DON RICHARD, Gracie World Champ & MMA Pro Fighter,
Todd Allee and other instructors.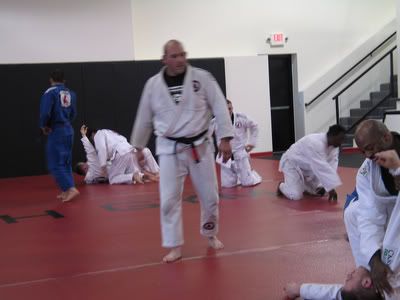 Brazilian Jiu Jitsu: Taught by Black Belt DON RICHARD, Gracie World Champ & MMA Pro Fighter and other high ranking instructors.
Muay Thai: Taught by "Matee" Jedeepitak– from Thailand, champion-title holding, Pro Muay Thai Fighter with over 200 pro fights.
Boxing: Taught by "Showtime" David Lester Ex-Light Heavyweight now boxing instructor and Kara Ro - Professional Boxer 16-0-0 and former World Champion.

Introduction to MMA: is a great class or starting point for anyone interested in any of the adult classes or programs we offer.  Everyone in these classes is similar– they are starting out and learning the basics.  You will be exposed to Brazilian Jiu-Jitsu, Muay Thai and other mixed martial arts moves.  Wear athletic shorts & t-shirt.  No obligation.  No pressure.  Train at your own pace and comfort level.
Background on our Jiu-Jitsu: We train Brazilian Jiu-Jitsu (BJJ) and are accredited by the Caique Jiu Jitsu Academy headed by world-renown 7th degree Black Belt Master Carlos Caique Elias. Mash Gym is an affilate of the Caique Jiu Jitsu Academy. Master Caique is o­ne the Black Belts from the old time Gracie Academy in Brazil, when Helio Gracie and his sons were all together in the same academy.  It has been said that for many years Carolos was one of, if not the best student.
Other history of Jiu Jitsu includes that monks of India originally invented and practiced Jiu Jitsu and is said to be the foundation of all of the martial arts.  Jiu Jitsu came to Brazil in the 1920 and taught to world renowned martial artist Carlos Gracie, Sr. by Japanese master Mitsuya Maeda (aka "Count Koma").  The Gracie family developed the system that is now known as Brazilian Jiu Jitsu. It features many techniques including strikes, joint locks, throws, submission holds, pins, and pressure points with a focuses on grappling and ground fighting.  The goal is to gain a dominant position and to use joint-locks and chokeholds to force your opponent to "tap-out" declaring a submission.
Muay Thai: is the national sport of Thailand.  Muay Thai is a form of kickboxing that features strikes using the legs, the knees, the hands and the elbows. Muay Thai has become more popular in the past few years because most of the professional MMA fighters train and use Muay Thai techniques in their matches.  The Style is known for its powerful kick and knee strikes.  Individuals can become very proficient  within a relatively short period of instruction.  We are Michigan Muay Thai.
MMA CLASS: Taught by Black Belt DON RICHARD, Gracie World Champ & MMA Pro Fighter.
One-On-One Personal Martial Arts Training: Private training with a professional martial artist, cage fighter, or boxer.  We have the best Michigan MMA fighters and instructors.
One-On-On Personal Training: Certified personal trainers construct and implement a personalized weight or fitness training program for you and work out with you guiding you and pushing you to your full potential.  This is the traditional personal training you see at major health clubs.  Our weight equipment is all brand new and state of the art.
Mash Gym has five certified personal trainers that cumulatively have more than 70 years of experience.  They can assist with physical conditioning, building muscle, weight training, fat loss, nutrition, diet, plyometrics, power lifting, sports training and more.
Some reasons why you may need a personal trainer:  You don't know where to start.  You are not getting results with what you are doing.  Accountability.  Increased intensity of workouts.  You need a program to do on your own.  You have special needs because of illness, disability, injury or condition.  You are training for a sport or event.  You desire to build muscle and/or lose fat. Motivation.

Ultimate Bootcamp: is a fitness class that also teaches some martial arts, boxing and other arts movements.  You will learn and you will sweat.
Pilates: is an exercise system of body conditioning.  It is designed to strengthen and lengthen the body's muscles; it also focuses on reducing back pain and injury.
Pilates was developed over eighty years ago by Joseph Pilates.  Pilates is an excellent fitness system for people of any age since it tones and strengthens the muscles without impacting the joints. It improves posture and strengthens the parts of the body that age attacks, including the stomach muscles, upper arms and inner thighs.  Pilates emphasizes body alignment and correct breathing.  Pilates is a method that aims to create a balance in the body.
Boxing: Brand new boxing ring and professional boxers teach you and put you through this old, traditional style of sport's combat.
Wrestling: On 2,300 sq. ft. of college-style wrestling mats is where champion wrestlers will advance your grappling skills.  Wrestling is part of the MMA classes.
Memberships Available: Call and join now. 313-387-5801